Lichenstar is a dilute calico she-cat with dark yellow eyes.
Description
Appearance
Coming Soon
Character
Coming Soon
Abilities
Lichenstar is an overwhelmingly strong cat. While she isn't one of the largest she-cats, no, that title goes to her rival leader, she still is a formidable force in the heat of battle. Lichenstar is more or so heavier than most and retains the 'iconic' look of ShadowClan despite her half-Clan heritage. She uses her weight to her advantage over smaller cats and anyone else it works against. It is also one of her shortcomings as she finds herself taking a hell of a lot of damage from her opponents that are faster than her.
Biography
Backstory
Lichenclaw is first named as Sootstar's first and only deputy. It is said that the two cats had deep mutual respect for each and that they worked very well together to lead ShadowClan into a new age (following on from what Cinderstar had started a few years prior). Sootstar and Lichenclaw are described in history as an unstoppable team by other Clans as they create a reputation for ShadowClan for years to come. This leads the two cats into many battles side by side and fighting tooth and claw for their Clan's rights. While it took its toll on Lichenclaw, Sootstar lost many of her lives in these assorted raids and battles. She sadly passed away following one of these.
Following the leader's death after succumbing to her infected wounds, Lichenclaw travels to receive her nine lives and new name at Highstones. Lichenclaw is renamed Lichenstar by StarClan and returns to lead her Clan. She names her former mentor, Magpiepelt, as her first deputy. He serves her for many moons before requesting to retire due to his age and his contentment with his service to ShadowClan. As he does, Lichenstar is left with the duty to choose a new deputy to succeed him.
Leadership
Lives

Unnamed warrior - Knowledge
Unnamed warrior - Truth
Unnamed warrior - Mentorship
Unnamed warrior - Spirit
Unnamed warrior - Energy
Sootstar - Kinship
Cinderstar - Leadership
Crowpelt - Intelligence
Dubhghall - Courage
Deputies
Lineage
Father:
Mother:
Crowpelt: Deceased; StarClan resident
Uncles:
Cloverstorm: Deceased; StarClan resident
Magpiepelt: Living
Cousins:
Salmonclaw: Living
Troutstream: Living
Hollynose: Living
Cousins Once Removed:
Relationships
Family
Lichenstar grew up in ShadowClan with her mother, Crowpelt, and she always had a close bond with her. The two were very close as Lichenstar was an only child and therefore was the pride of her mother. But, Crowpelt was a relatively young cat when she had Lichenstar and while she was inexperienced, she tried her best and wanted to be a friend to her daughter. Lichenstar shared many memories with her mother and while she had her friends, she always knew that her mother was one of her best and closest friends forever. The leader felt honoured to receive a life from her mother and the whole ceremony was already emotional but, Lichenstar seeing her mother after years broke her down to happy tears.
On the other hand, Lichenstar never really met her father but, she knew he was a RiverClan warrior as her mother had told her when she was younger. She never met him nor saw him at her Nine Lives Ceremony. As a result, Lichenstar never really formed an opinion on the tom. She was at first a little annoyed that he had seduced her mother, but, she couldn't bring herself to holding a grudge against him. The only other thing she knew about Carpfur was that he was a respected warrior of his Clan.
Peers
Coming Soon
Please refer to the Friends section.
Coming Soon
Friends
Coming Soon
Rivals
Coming Soon
Coming Soon
Coming Soon
Coming Soon
Quotes
Coming Soon
Trivia
Maxx headcannons that Lichenstar is the second largest she-cat in the roleplay (possibly). She is second only to Spiderstar.
Images
Life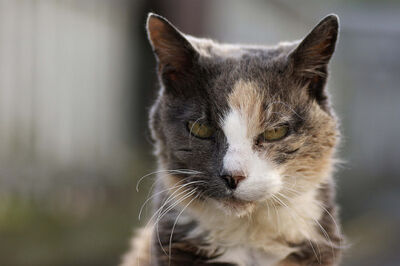 Pixels
Please do not edit this gallery without permission from the role-player