Reedpelt
Affiliations
Current
StarClan
Past
RiverClan, Loner
Names
Loner
Warrior
Queen
Mahanadi
Mahanadi, Reedpelt
Reedpelt
Life
Age
Approx. 81 moons (6.75 years) at death
Status
Deceased
Cause of Death
Health complications
Debut
Unknown
Last Post
Unknown
Family
Father
Unknown tom
Mother
Unknown she-cat
Siblings
None
Mate
Sandfur
Kits
Skipperpelt, Aspentail, Eelface
Education
Apprentices
Cloverstorm, Aspentail
Roleplay
Owner
Beau
Reedpelt was a tabby tortoiseshell and white she-cat with hazel eyes.
Description
Appearance
Coming Soon
Character
Coming Soon
Abilities
Coming Soon
Biography
Roleplay
While Reedpelt doesn't formally appear before or in the roleplay, she often vaguely mentioned by her daughter, Skipperpelt. She is said to be the cat that taught the elder about how the stars foretell someone's future, as she believed that heavily before moving to the Clans with her mate. Other than that, she is never mentioned any further in conversations nor history.
Lineage
Mate:
Son:
Aspentail: Deceased; StarClan resident
Daughters:
Skipperpelt: Living
Eelface: Deceased; StarClan resident
Granddaughters:
Salmonclaw: Living
Troutstream: Living
Great-Grandson:
Nightkit: Unborn
Great-Granddaughter:
Cootkit: Unborn
Niece:
Newtstar: Deceased; StarClan resident
Relationships
Family
Skipperpelt, Aspentail, and Eelface
Reedpelt loved her children however, she raised them with tough-love mindset. She struggled a lot as a child, and it was quite possible that she was raised this way as well. Reedpelt did 'soften' up when moving to RiverClan but, still a new environment wasn't going to wash away her past. The she-cat basically allowed her kittens to become quite independent from a young age, however, she kept a bond with them and still mothered them from time to time. It was safe to say that Reedpelt was probably more of a friend to her grown kittens than a mother but, she didn't mind that. At least she was able to make sure they were safe and could grow up to be strong cats.
Love Interests
The two met prior to joining the group that would become RiverClan. They came together after a rough patch that left both of the then young cats starving and desperate. So after working together, they became quite close and at first thought they weren't going to take it the step further and have a litter together. But, that was when they were recruited into the new Clan and so their lives took a different turn. Changing names, becoming respected warriors, it opened up a new life for the pair and eventually they did have children. Reedpelt cannot deny that she loved Sandfur claiming that she found her soulmate.
Images
Life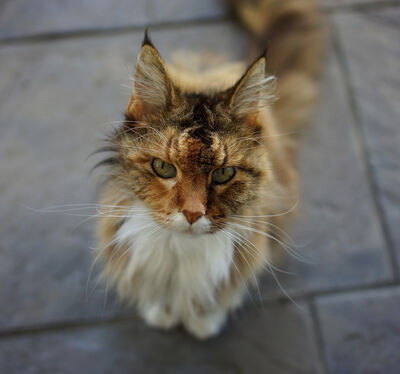 Pixels
Please do not edit this gallery without permission from the role-player